Grant McLean - Ireland Series
You can click images for a larger view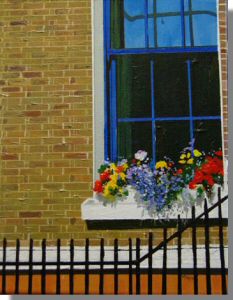 A Window Into Dublin 11"x14" Acrylic
I owe the producing of this painting to one of my closest friends, himself a painter in his high school years, but like most of us, work, family, other interests, etc, tend to push things like painting off the agenda (unless it happens to be the fence or the interior of your home).
He challenged us both to do our own version of the same image, and having only the previous evening looked at some of our Ireland pidtures, he had commented on one shot, taken just outside the B&B we stayed in, along a main street in the city of Dublin. So the painting was born, and was the required nudge to get back into the studio. Thank you, Graham.
new print coming October 2009 s/n 100
WESTPORT HIDEAWAY (northwest coast Ireland) 14" x 18" acrylic.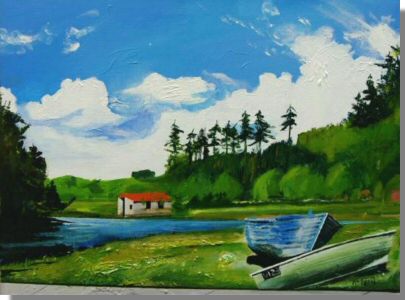 During our August 2009 Family Vacation, there were many anticipated wonders, such as the Aran Islands, Giant's Causeway, Dingle, Belfast, Dublin, Accill Island etc……however, some of our greatest visual gifts came by accidently getting lost onto an even narrower road, a thing hard to imagine when your current road is at best 3 inches wide already.
Such was the case as we drove up the west coast of Ireland towards our destination of Accill Island; we passed this little harbour as we raced towards our accommodations on Accill Island, and it was what I often refer to as a "Fish hook in the Eye" ….You see something nobody else sees, but you know you just drove past a painting. Following a spectacular day/night on Accill , we drove back through Westport, but this time, I found the scene which has just now (Oct 09) become my 2nd in a series of 6 selected IRELAND PAINTINGS, to be completed by the end of 2009.
The Irish Coast Guard 18 " x 24" acrylic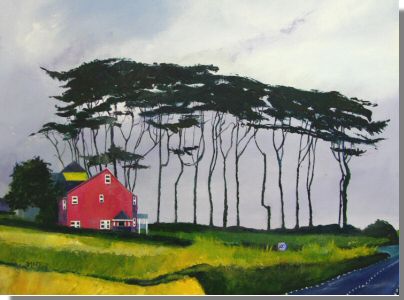 One of my first watercolor paintings was a simple yet striking scene of breezy treetops, near Perego bluff, on Whidbey Island. The location as well as the geometry of this current image reminded me sufficiently to title it with a nod to the earlier piece. This image, THE IRISH COAST GUARD, is just east of the southwest coastal Irish town of Dingle. This area is surely one of the jewels of Ireland's crown.
Without doubt, the most amazing thing about this area is the posted speed limit of 100kms. Only for the seasoned Irish.
still to come: Kinsale and Sligo