Grant McLean - Limited Editions
You can click most images for a larger view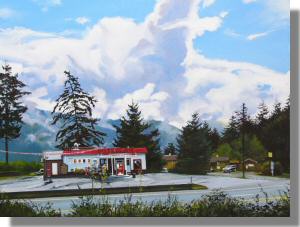 On The Malahat This (Malahat) is the latest piece, as a result of a recent trip to Victoria. It will be released as a print early 08, after entering it into the FCA's year-ending Medal show.
This painting will be released as a limited edition (100) giglée reproduction in January 2008.
Sumas 2 Project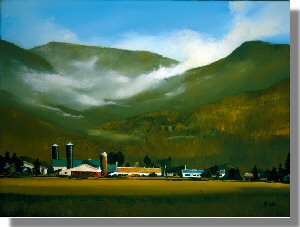 Since switching into Acrylics 4 years ago, I have looked back at some of my earlier watercolor works, and have wondered how I would have approached the subject in the acrylic medium. The Sumas Prairie area remains a fascination for me, with endless shapes, shadows and designs. The farmers in the area must think I have some pins loose, wandering around in their fields, camera in hand, while they labor away at legitimate work...."Look, Martha, it's that loony in the white station wagon...is he back here again?!" But there is spectacular beauty at hand in the Fraser Valley, especially if caught at the "magic hour", Robert Genn's phrase to describe how the late afternoon/early evening sun casts long shadows, blended with the warmest hues of all colours. The Sumas Prairie region also is the theatre for unique mixes of weather, such as in this image, where the sky almost seems to slide down into the valley below.
Sumas 2 Project 20" x 30"
Live from Pender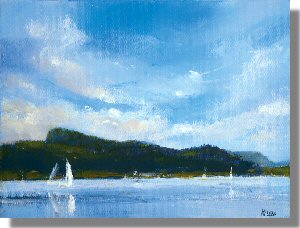 The first three months of 2006 were busy and exciting...three FCA juried shows in succession. The SUMAS 2 image above was shown in FCA's January LANDSCAPE SHOW, followed by this new image, LIVE FROM PENDER, having won an AWARD FOR EXCELLENCE in the February FCA juried show, SPONTANEITY. The latter show was a new concept for FCA, where the paintings had to be plein aire (in other words, live, on site works) and not overworked....trying to catch the essence without telling the whole story. This painting was one of half a dozen pieces painted while we were on a family vacation on PENDER ISLAND, a while back. As with most painters, some of my best pieces are the things I haven't fussed over.
Live from Pender 11" x 14"
Cannon Beach This painting was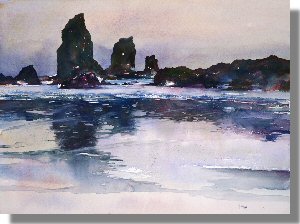 originally released several years ago as a Giclee print from a watercolor image painted on paper (300 lb coldpress rag), but somehow it got lost in the shuffle of other images released at the same time. Some, not all, of the stronger paintings, although originally painted in watercolor, reproduced so much more vividly onto canvas, that I feel the image hasn't been given its best presentation. Such is the case with CANNON BEACH. After painting in Acrylics now for the past 5 years, I look back at some of the earlier watercolor paintings, and there are some I have, and will in the future, re-render them in my current acrylic styling; but for the most part, I wouldn't want to change many of them, just would like to see what the added punch of current technology and canvas presentation look like.
"Cannon Beach" ltd edition s/n 100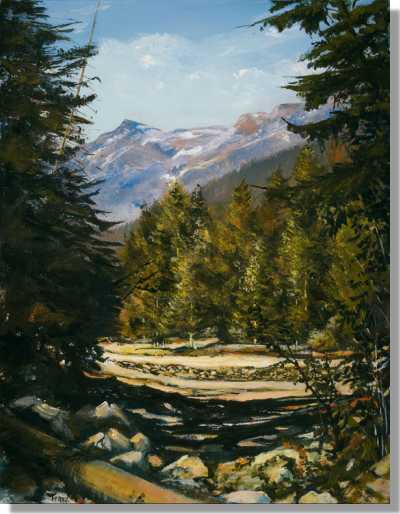 Rainbow Mountain at Whistler. The vantage point is looking southward through Rebagliati Park, in Upper Whistler Village. A 180 degree turn would have me looking directly at Blackcomb Mountain, and 90 degrees to the left is Whistler Mountain. During the week we spent in Whistler Sept 2002 for the Credit Union Commision piece, I gathered a thousand memories, tangible and intangible; sketches, photos, and simply being still enough to take it in. The minestrone of weather over the few days we were there was spectacular, leading to some images of breathtaking sky and clouds, creating perfect supporting casts for the main actors, the mountains themselves. This image is just the first of many new Whistler paintings to be released as Giclee prints over the next 18 months.
"Rainbow Mountain" ltd. Edition s/n 100, Image size 14x18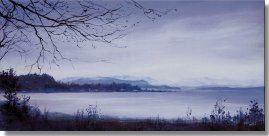 Mud Bay Driving along the #99 Freeway in February, while bringing one of our daughters home from a morning hockey game in Richmond, I was paying more attention to my surroundings than usual, and much to the chagrin of the girls, kept stopping the car every couple of minutes to look at and photograph the scenes.
After an hour of enthusiastic hockey parents screaming in my ear, I needed some time in my studio, and this painting was born. From the vantage point of the Panorama Ridge, looking across the 99 is this sprawling seascape, which likely lies dormant to its onlookers most of the time . . . but occasionally with the right time and light, springs to life.
"Mud Bay" ltd. edition s/n 100, image size 12*24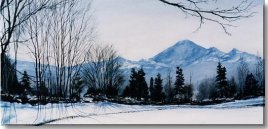 Baker at Dawn - Spring Amazing the jewels in our own backyard. Having lived in Abbotsford 8 years, and the lower Mainland my entire life, Mt.Baker has just always been there, like the predictable rain on the wet coast. We ski on it, hike on it, drive by it, and are usually only briefly impressed, then move on to the other million things to be impressed by in this spectacular province of BC. Some months back, Rod Bishop at Charisma Gallery prompted me to consider Baker as subject matter; I almost felt embarrassed at not figuring this out myself years ago. Much like the pretty girl left on the sidelines at a dance, thinking to herself "What about me?", I have apologized profusely to this beauty several times of late for ignoring her for so long. In March/02, following a late snowfall, I drove out to Chilliwack and back taking in the transformed plains and farmlands, and of course, there was Baker, doing her usual duty of adequate background...but only this time, I really saw it for the first time as the subject itself. This image is from the vantage point of Highway 1, between Clearbrook road and MacCallum Road.
Baker at Dawn - Spring" ltd edition, paper 100 canvas 50 Image size 14x28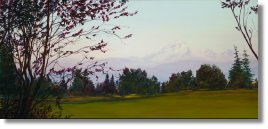 Baker at Dusk - Summer The second painting in the 4 SEASONS OF BAKER series, BAKER AT DUSK - SUMMER, is now available as a canvas giclee. Like the first image, BAKER AT DAWN- WINTER, the image is a 14 x 28 inch Acrylic - on- Canvas. The vantage point for the Summer painting was similar to the Winter scene, along Highway 1, near the Clearbrook exit, looking southeast. Where the winter scene was painted from reference photos in March 01, the reference photos for the Summer scene were taken in August 01. The concept of rendering a similar scene a number of times, under different conditions, is harder than it might appear; painting in a more generic fashion doesn't require the specficity of, say, trying to create the mood and precise light of 8:30 PM, in the summer.
"Baker at Dusk - Summer" ltd edition s/n 100 Image size 14x28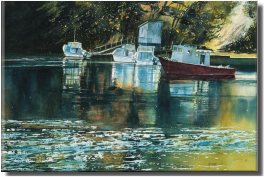 Dreamin' Although this image comes from a trip to the Maritimes, I was struck by how similar some of the coastline actually was to our spectacular west coast. The uniqueness of the east is often a magnet for those of us from the "other" side, however coastal light, sparkle, power, and the indescribable pull to be there are shared east to west.
Dreamin' ltd edition paper 100 canvas 50 image size 20x28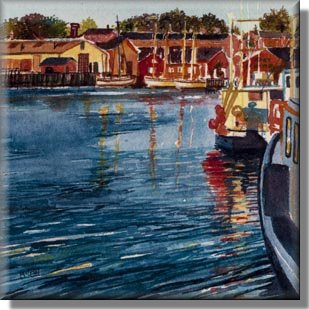 Lunenberg Harbour I can't recall a more pure art moment than when I encountered the wonderful town of Lunenburg, Nova Scotia, at 6 am, Thanksgiving morning, 1999. The rising sun gave off a quality of light I had never seen before, and like someone chasing water in the desert, I followed the rays of light up and down the streets and waterways. This little gem is only one of many highlights I was witness to. From the vantage point of this image, if I was to turn around 180 degrees, I would be looking at the Bluenose II.
"Lunenburg Harbour" ltd. edition s/n 100 4x4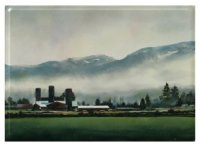 Sumas Prairie The Sumas Prairie is a wonderland of shape, color, design, and contrast. The mountains seem to frame an ever changing scene, which invites a vast array of cloud weaving within and behind the shapes. I discovered this scene on a Saturday morning while heading to a weekend retreat past Hope — needless to say, I was hours late for the retreat, stopping every 30 seconds to take another photo or sketch another view — or simply to mentally record the panorama before me. Several versions of this scene have been, and will likely continue to be painted.
"Sumas Prairie" Ltd Edition 50 Image size 28x20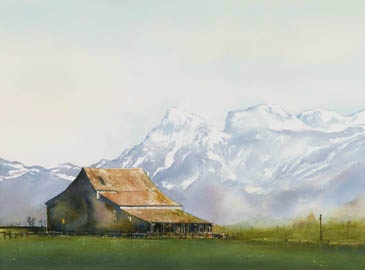 Once upon a time in Mission Occasionally I come across an image so startling that regardless of whatever else I might be doing, I grab the camera and sketch pad, and try to record the moment, in content as well as feeling. So it was with this scene, discovered along Highway #7, just east of Mission, en route to Desroche. On returning a week later, to do an onsite painting, the barn had been razed, leaving only the looming shape of Mt.Cheam in the distance. This painting was done some 10 years later as a painting demo for Artistís Walk 2000 at the Charisma Gallery in Abbotsford. Lesson learned: seize the day, paint the scene, record the moment..and always carry the "tools".
"Once Upon a Time in Mission" ltd edition 50 image size 28x20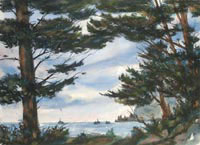 China Beach

This painting was accepted into an FCA exhibition in 1996, winning an award. China Beach is on the west side of Vancouver Island, just a bit north of Victoria. This is a wonderful area, with a string of great beaches and coves, including Point No Point and French Beach. The calm of the horizon and the restful fishing trawlers stand in stark contrast to the strong verticals in the image, and the geometric tension between them all is what holds the work together.

"China Beach" ltd edition 50 image size 28x20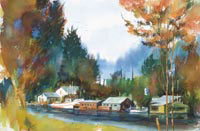 Oregon Riverside This painting was a collage of images from the North west region of Oregon, just south of Astoria, Washington State. We were heading towards Cannon Beach, but as usual I was getting sidetracked by my immediate surroundings. The quaint fishing villages on Puget Island, along the Columbia River were spilling over with images waiting to be birthed as paintings.
"Oregon Riverside" ltd edition 50 image size 21x14
End of the Road The road in the title is Townline Road, where it ends intersecting with Harris Road. This was one of the first paintings completed when we moved to Abbotsford in 1995. Its first rendering was a plein air
11 x 14 work, done while sitting in my car, later worked up in my studio. It became abundantly clear about that time that there would be no shortage of inspiration around here!!
"End of the Road" ltd edition 50 image size 21x14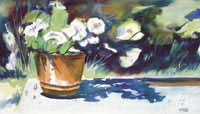 A Moments Notice This image was painted in the backyard of our house in Langley (before moving to Abbotsford). It was one of those split second out-of-the-corner-of-your-eye things, quickly grabbing my paints and brushes and rendering the painting in less than an hour. Nailing the painting that quickly is a gift that comes along periodically for me, but whenever it does happen, I am again reminded to never ignore the prompting, and go for it.
"A Moments Notice " ltd edition 50 image size 21x14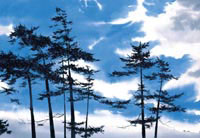 The Coast Guard This is probably my favorite of all my paintings to date (since I get asked this all the time). It is another Whidbey Island image, and dates back to 1987. It isnít one of the most complex works Iíve ever done, but it was another of the gift moments. This is actually a close-up view from the image Cascades, on the beach just a few moments north of Coupeville. It was one of my earliest watercolour paintings, and I remember the process completely; the magic of painting wet-in-wet in watercolour is a random combination of risk, bravado, guesswork, experience, timing, and possibly using the right brush, paint and wetness of paper— oh, yeah, a knock-out image doesnít hurt, either.
The Coast Guard ltd edition 50 image size 20x14

Night Shift Once again, this image lends itself to the long format as the painting tries to capture the essence of the coastline at night. The scene is just a bit north of where Dandelion Daze was painted, on Whidbey Island. This is the beach where I discovered the tree shapes which became The Coast Guard, as well as for the painting Cascades. Every couple of years, when we are back onto the island, I like to go back to this location to see what time and the elements have done to this great tree.
"Night Shift" ltd edition 50 image size 29x10.5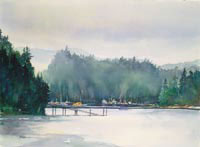 Just Passing Through Anyone who has taken a B.C. Ferry through Active Pass has seen this area, and if you are lucky, the light is marvelous, sending artists, tourists, and anyone with eyes running for their cameras.
"Just Passing Through" ltd edition 50 image size 28x20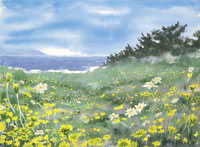 Dandelion Daze This was one of the earliest of my watercolour paintings, dating back to 1987. Although I had always drawn, when the painting began in about 1983/4, I recall as if it was 5 minutes ago telling myself (and anyone else who wanted to hear it) that it would take 20 years to get even close to being respectable in this medium. This scene is looking west to the Olympic Penninsula from Perago Bluff, on the west side of Whidbey Island, Washington State (5 minutes from Coupeville). I have done many paintings of Whidbey Island scenery, but this bluff is stunning, and one of my favorite places.
"Dandelion Daze" ltd edition 50 image size 28x20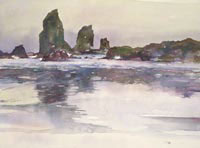 Cannon Beach This is one of several renderings of the massive rock forms at Cannon Beach, Oregon. Haystack Rock is a visible, familiar landmark, which interestingly enough, people often ask where the scene is, then once told, immediately say "Oh, yeah, Iíve been there!"
I owe my emerging interest in Acrylic painting largely to this image; Ron Ling, of Zheeclay Art Prints, who has guided me through the sea of art reproduction, reproduced a small image of this watercolour painting, on canvas. Although the concept of reproducing watercolour paintings onto canvas drives some purists insane, seeing how powerful the image looked on canvas prompted me to take a look at adding Acrylics to my toolkit. Stay tuned for an Acrylic painting of Haystack Rock.
Cannon Beach ltd edition 50 image size 28x20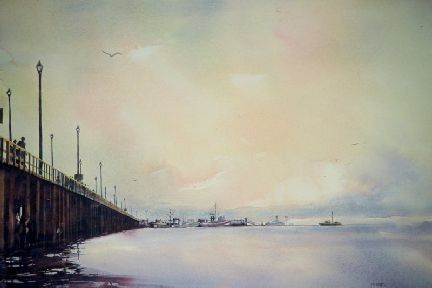 The Pier at White Rock This painting doesnít require a lot of interpretation —if you paint in watercolour, and live in the Fraser Valley, the chances are pretty good that you will walk the boardwalk in White Rock and see a killer sunset. ĎNuff said.
One note of interest - This was my first painting put into Limited Edition Reproduction, using Giclee technology.
"The Pier at White Rock" ltd. edition 50 image size 28x20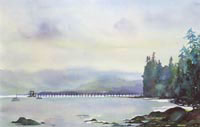 "Salt Spring Pier" Looking back over nearly 20 years of painting mainly in watercolour, it seems there are some patterns emerging. One of which the inclusion of piers, lighthouses, and anything to do with the coastline. Iím not really sure where this comes from. Art design /theory has something to say about the effect of strong horizontals in anchoring images. Something that is restful, peaceful and stabilizing. So either I really need these influences in my life (alright you guys, quit laughing!!), or it is more perfunctory; we like to go to Salt Spring Island as often as we can, and guess what - lots of piers and coast!
"Salt Spring Pier" ltd edition 50 image size 28x18.5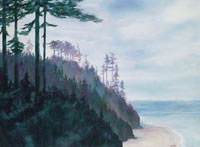 "Cascades"
"Cascades" Ltd. Edition 50 Image size 28x20

Abbey Skyline

Like Hatzic Haze, this painting is perfectly matched to the longer format. This could be any number of dozens of views around the Abbotsford/Fraser Valley, and the end result of this painting is one of my favorites. I owe a note of thanks to my good friend, Doug Hawes, who actually took the reference photo I used. I don't like to paint anything I haven't sketched, taken photos of, or been to myself, but this image jumped out at me.

Abbey Skyline Ltd. Edition 50 Image size 27x9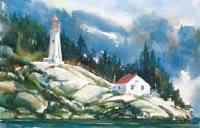 Lighthouse Park
Lighthouse Park Ltd Edition 50 Image size 21x14

"Hatzic Haze" This format of narrow horizontal images can be very effective with the right painting, and it tends to often find its way into my work. Sort of like the panoramic photo, it provides that wider sweep that tells just a little more of the story. This scene is looking west towards Mission, from Highway #7, where the lake is close to the road. It was a really hazy, lazy day, and you can just make out the Abby tower above the barn. If you ever get the chance to go up into the tower and see the best view in the Fraser Valley, jump at it.
"Hatzic Haze" ltd. Edition 50 Image size 22x8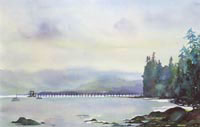 "Salt Spring Shadows" This image, along with its mate, Wandering Days, are among my favorites, as they present the spontaneity, purity, and randomness of the artistic process, at least in my approach to painting. Years ago, while driving along the main road on Salt Spring Island, heading north from Ganges, out of the corner of my eye I caught the sunlight glancing off the side of this turn-of-the-century building. From the vantage point of this painting, turning to my right was the scene depicted in the mate painting, Wandering Days.
Salt Spring Shadows Ltd. Edition 50 Image size 21x14

"Shawnigan Lake" This original painting was commissionsed by a friend, Alistair, who, with his family, lived for several years close to the lake, while teaching at Brentwood College. It was a surprise gift for his wife, Ruth, and her response to the finished work was, to me, what painting is really all about. To take some memories of a time and place, crystallize them in a painting, and catch the feeling, mood and light, just as someone else recalls them, is daunting but tremendously rewarding.
"Shawnigan Lake" Ltd. Edition 50 Image size 29x10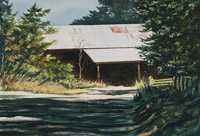 "Wandering Days"

Ltd. Edition 50 Image size 21x14