Nordic Dreams by Grant McLean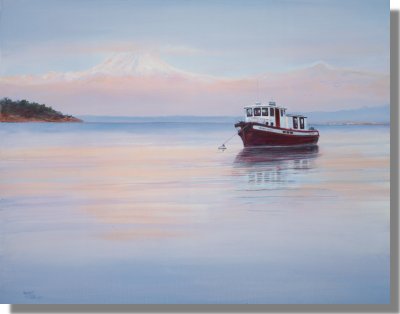 Nordic Dreams Limited Edition print 22" x 28"
August 2002 was one of those heady times most artists dream of. Sitting in my physio clinic late Friday night getting ready to be off to Victoria for a week of family vacation, Rod Bishop from Charisma Gallery in Abbotsford called to offer me the Whistler Project.
With this challenge fresh in mind, I was off to meet up with my family at a KOA campground near Victoria. While staying there, we met John, the affable campground operator, a friendly and interesting guy with a broad range of interests, including art, the west coast and Tug boats. While his granddaughter and our girls splashed about in the campground pool, we knocked around the idea of my possibly doing a painting for him. My wife, Carol, had told him about my artwork (while I was off for the day shooting pictures around Sooke) so, after visiting the website and viewing the recent Mt.Baker paintings, he approached me about a commissioned piece.
He had taken a photo of his Nordic tug, apply named NORDIC DREAM, while anchored in picturesque Echo Bay, Sucia Island, part of the San Juan Islands. I was certainly open to the idea of the painting, and asked him to forward a picture to me, and take it from there. It took me a tenth of a second to agree to do the painting once he e-mailed the picture. It was stunning.
I have often been asked by potential patrons if I would do a painting of this or that from a photo, and my stock answer is: it has to be somewhere I have been, felt a strong connection to, smelled the smells, touched the grass, felt the breeze, and seen the colors for myself. My best work has always come from those places that have moved me, pushing some inexplicable inner button that allows me to SEE. John's picture did all of this; even a quick look at the past 10 years of paintings says pretty clearly what inspires me - sea, mountains, light, contrasts. There was such a tranquility to the scene, a strong triangular composition, boldly stabilized by the sturdiness of the boat and the majesty of Baker in the distance. Capturing all this in warm dusky tones didn't hurt, either.
The painting came together over the period of October 2002 to January 2003, in between kids hockey games, dance and vocal recitals, Christmas, a broken ankle (daughter), clinic work as usual; this emerging work was also doing battle with another Mt.Baker image, as I continued in my series of 4 Baker pieces, one for each season. The final touches were going onto the piece just as the BAKER AFTERNOON (FALL) painting was being finalized. Once finished, I sent John a slide of the painting, and the idea of possibly releasing it as a limited Giclee canvas Print came about.
We are to present the painting and prints in June in Anacortes, Washington, at a Nordic Tug rendezvous.