Grant McLean
An update on the life of Grant 1954-2011
January 15, 2011- Most of you know Grant as a painter, some from his work as a physiotherapist, many more as a friend, and a select few as family, When Grant was creating this painting he was also beginning a battle with cancer. His motto was "paint while I still can," and he did this successfully. The sheer joy of the paint even when it wouldn't seem to go where he wanted it to go was one of the strong memories of Grant's latter days in his studio.
Through December and early January, Grant was in the last few days of the battle. The many friends and family that were able to visit him in Abbotsford and later at Mission Memorial knew him as an active physio teacher and listener, even to the end. At the end he was surrounded by family and friends in hospice, as "it's not right for man to be alone."
He now is seeing light that never fades, more colours than he ever imagined, and painting with paints that never dry (until you want them to). He has the great privilege of knowing the truth of the promise of where he was ultimately going and getting there before us, just to find the best en plein air easel spaces to show us, and painting masterpieces for his next show.
We will all miss him but are all better for having known him.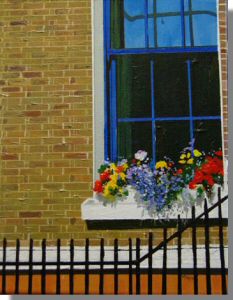 A Window into Dublin
Acrylic on canvas original
Grant's Giclee reproductions are available on either Canvas or Watercolour Paper.
Grant is a juried West Coast painter, noted for his evocative portrayals in either watercolour or acrylics of the scenery of the Pacific Northwest. He has now achieved Senior Signature Status with the Federation of Canadian Artists.
Grant's images are available as reproductions and originals.
Grant's "A Window Into Dublin " <! -- third -->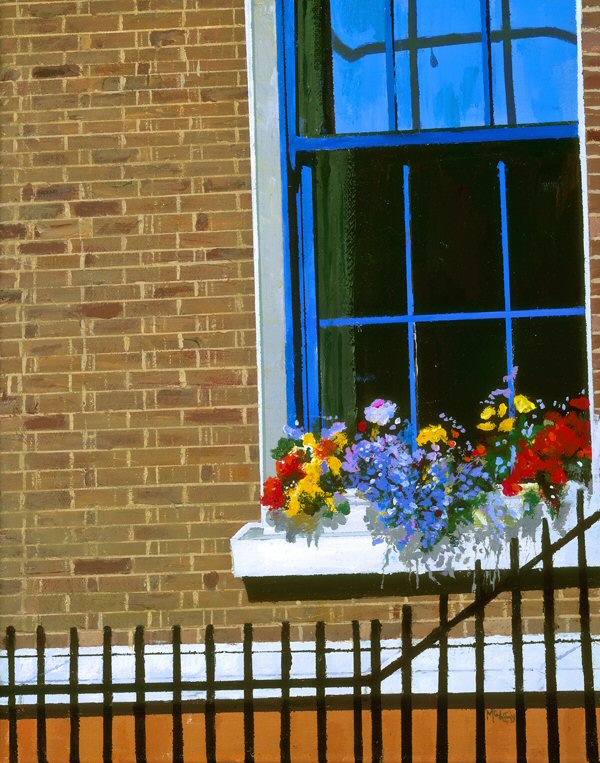 After promising my family that some year, we would take a vacation longer than 1 week in a tent or cabin, we finally did it this year (2009), and travelled to Ireland, with quick side trips to Paris and London, Leicester, York and Nottingham (Carol's family roots).
The 4 week trip was mid July-mid August, the majority of which was driving the entire country of Ireland. My initial designs on Plein-aire painting gave way to the more practical taking of pictures, in deference to family members. It was a great family time,and very interesting to explore some of my family tree, with my mom's side comimg from Enniskillen, Northern Ireland.
With an unpredicted week spent in VGH between landing back in Vancouver, and eventually back home to Abbotsford, sorting through photos and looking for painting ideas came along slower than usual. Having had a cancerous brain tumor removed, with a bit of uncertainty as to functional impact, I was perhaps a bit tentative in squeezing out some paint.
I owe the producing of this painting to one of my closest friends, himself a painter in his high school years, but like most of us, work, family, other interests, etc, tend to push things like painting off the agenda (unless it happens to be the fence or the interior of your home). He challenged us both to do our own version of the same image, and having only the previous evening looked at some of our Ireland pictures, and had commented on one shot, taken just outside the B&B we stayed in, along a main street in the city of Dublin. So the painting was born, and was the required nudge to get back into the studio. Thank you, Graham.
11"x14" acrylic